tangram on radio kxlu 88.9 fm
Tangram will appear in radio show "Alien Air Music" on KXLU 88.9 FM, Los Angeles.
Show will be aired at 9 PM (Pacific Standard Time) on 11th October, Sunday. You can listen it online at http://www.alienairmusic.com

new song: my running shoes
Tangram released a new song called "Powersong (My Running Shoes). The video of this song is online now, you can see it here.
new site
Tangram's new website launched! It contains news, videos, free mp3 downloads and lot more infos about electronic music composer Peter Fabok
3 downloadable albums from tangram
3 Albums are available for free at tangram-music.com! Download Tepidarium, Aura and Triangle Square now at "DOWNLOAD" menu!
tangram live concert @ cökxpon 12/11/09
Tangram will perform a live concert at Cökxpon Ambient Theatre (Budapest)!
The show will start at 10PM. Entrance fee: 400HUF

Tangram will perform Tepidarium + Aura on the stage
can't sleep?
More and more people suffer in any kind of sleeping disorder (insomnia, etc). If you have sleep problems, you know that this makes effect on your personal life, health and work. Sleeping well is one of the most important need in our life. Some sleep disorders are serious enough to interfere with normal physical, mental and emotional functioning.
Tangram's new album, "Mindwaves" helps you to sleep well with 60 minutes long relaxing music.
Learn more about "Mindwaves" »
tangram review on sonic immersion portal
Sonic Immersion is an electronic music portal, and they wrote a review about Tangram's latest album, 'Tepidarium'.

Read the full article here: http://www.sonicimmersion.org/review.php?letter=T&review=71828
tangram: highway ambience is available on itunes
Tangram's "Cafe del Mar"-ish album, "Highway Ambience" is available in iTunes. Track "Sol y Mar" is available for free at SoundCloud.

visit iTunes

Sol y Mar at SoundCloud
free downloadable tracks on soundcloud!
Tangram shared some of his tracks on soundcloud.com. Visit this page or go directly to http://www.soundcloud.com/fabokpeter
website poll
What kind of music do you like?

Tangram wants to know that what kind of music his visitors like. Could you choose one? The poll is in the rightmost column of the webpage.
tepidarium review in a french blog
French ambient music blog, http://ambient.bourzeix.com published a review about Tepidarium album. Here's a quote from it:

"The quality of the record is top, not pure ambient, but very cool and relaxing sequencer music. One of the masterpiece of the year... and a free mp3 download!"

Read the whole article here: http://ambient.bourzeix.com/2009/11/21/tangram-tepidarium
three new tracks from tangram's next album "vermillion"
Three tracks from the upcoming album are available on youtube!
Bronze Bumblebees
http://www.youtube.com/watch?v=xzJ5ZS1qMwM

Lineup Kids
http://www.youtube.com/watch?v=TRSuf-vSGsE

Velvet Yellings
http://www.youtube.com/watch?v=cmjHQwGPreY

Listen and rate them on youtube!
tangram got #1 in top10 at astreaux world!
Tangram's new track, Bronze Bumblebees got #1 position at Astreaux World's radio station! Thanks for the supporters!
More info: http://www.astreauxworld.com/index.php?option=com_wrapper&Itemid=209
tangram: tepidarium (2009) is now available for free
Tangram's berlin school ambient album is available for free download

go to download page
download all tangram music for free
From now you can download all Tangram albums for free!

Download the relaxing one-hour "Mindwaves" and the 2007 debut chill-out album "Highway Ambience" at the download section HERE
blogpost about tangram
Widget-and-gadget blog posted an article about Tangram's music.
Link

audioporncentral post on tangram
Audioporncentral posted an article about Tangram's new track "Bronze Bumblebees" from upcoming album "Vermillion".

http://audioporncentral.com/2010/02/tangram-bronze-bumblebees.html
about the new tangram album "vermillion"
The new album's title will be "Vermillion" because of this is the color of sensuality, sexuality and love.
The tracks on this album will be in the mood of spring and for easy listening.
We will keep you posted about the process of making of the music.
musical instruments used to compose album "vermillion"
Many of you asked that what musical instruments I use for creating my albums. Now let's see my gearlist:
For creating pads and organic sounds I use the ROLAND V-SYNTH. This virtual-analogue synthesizer is a good tool to create new sound presets fast.
For creating the sounds of blown instruments I use AKAI EWI4000s. It's a MIDI controller with synthesized sounds.
For sequencing I use Logic Pro and ROLAND MC-808. The first is a software sequencer; the last is a hardware one.
I use many AU plugins with Logic, preferably AUs made by Rob Papen.
new track: golden smile
Tangram's next track "Golden Smile" is available on SoundCloud. Listen there
vermillion ep release date confirmed
The new Tangram EP, "Vermillion" will be released at 12th April. The new material contains 5 new wave / synth / electronica tracks.
On YouTube you can watch the "trailer" of Vermillion: http://www.youtube.com/watch?v=zFh7W6dxe1c
Keep watching this space!
tangram: vermillion released
From now you can download the brand new Tangram album, Vermillion. The retro style synth album contains 5 tracks, and now you can download it for free!

http://www.tangram-music.com/vermillion
tangram site for iphone
Now you can view this site optimized for mobile devices! http://www.tangram-music.com/mobile
flood situation in hungary - tangram helps

I offer the half of this week's income to help the victims of the hungarian flood situation. If you are purchasing some music on http://tangram.bandcamp.com you help the hungarian flood's victims.
Photo: index.hu
jarre's assent on tangram's new album
Peter Fabok (Tangram) contacted with Jean Michel Jarre about his idea: in his new album "Micropolis" he wants to use some samples of Jarre's track "Chronologie 6". The french synthesist personally approved Peter to use this samples in track "Opaque Projector".
The new ambient album "Micropolis" will be released in 06/29/2010.
micropolis album is out
"When Jarre meets Solar Fields" - said somebody about the new Tangram album "Micropolis". It's released in 06/29 and more than 2 hundred people downloaded in this week. The album has no price, if you want you can give some bucks for it.
Download from Bandcamp: http://tangram.bandcamp.com/album/micropolis
seventh album: flow
Seventh album of Tangram now released! In a very short period Tangram recorded his latest album, which contains seven tracks. This album is a relaxing, elevating music in 40 minutes.
Listen or buy here
download statistics
In the last 2 months there were more than 600 album downloads and 8000 online listening on Tangram Bandcamp site
tangram in ublf's downtempo podcast
UBLF's Chilldown Period Podcast ("Landmark" episode) is featuring "Embers" from "Highway Ambience" album.
The podcast's link: http://ublf-coast-to-coast.blogspot.com/2010/07/chilldown-period-landmark.html
docosanoid
new music video: golden smile
Peter Fabok made a hand-drawn music video for "Golden Smile" track of his Vermillion EP. Happy one-day voyage with a baloon.

new ambient release 11/22
Tangram will release a new ambient album in November 22nd. 10 tracks, more than one hour music will be on this album, the working title is "Docosanoid". Stay tuned!
more details of the album "docosanoid"

The final tracklist, album cover and other infos are available in the Docosanoid page. Go and check it out: Docosanoid page »
tangram on blip:fm
Listen Tangram @ blip.fm! When Tangram is your DJ, you get relaxed, trippy ambient music for free! Click here NOW
tangram's next ambient album "docosanoid" has been released!
8th album of Peter Fabok (Tangram) has been released! The 60+ minutes long atmospheric soundscape is available at Bandcamp. When you buy and download this album, a PDF comes with the package, which contains 10 photos taken by Peter Fabok for his 10 tracks of this album.
Listen online or buy the album only for $8! http://tangram.bandcamp.com/album/docosanoid

tangram's excursion to glitch / noise: "scrutinize"
Scrutinize means discover, examine. This album is trying to visit some microscopic world.
Listen online or download the album! http://tangram.bandcamp.com/album/scrutinize

10th album of tangram - "music not for just airports"
Two long tracks. Inspired by Brian Eno's "Music for airports". Tangram has a very creative year: 6th album in 6 months, 10 album in 3 years.
Give this album a chance: you will be taken to a journey places where you never been.
Listen online or download the album! http://tangram.bandcamp.com/album/music-not-for-just-airports

christmas calendar (photos + music by peter fabok)
It's December. We are waiting for Christmas. Until 25th of December Tangram will post one photo and one track a day for your good mood.
Visit the Tangram Christmas Calendar link: http://www.tangram-music.com/christmas-calendar
monorail unit a - the first demo recording from upcoming album "monorail"
First demo recording is available on Soundcloud.
Monorail (Unit A) - unmastered by Tangram What is your opinion?
rue jules verne- the second demo recording from upcoming album "monorail"
Second demo recording is available on Soundcloud.
"Rue Jules Verne" Preview by Tangram What is your opinion?
merry christmas and happy new year!
tangram dj set
In this year Tangram introduces "TANGRAM DJ SETS". This means, Peter Fabok plays his own ambient / chillout / space music in a 2-3-4 hours DJ set regularly. Every DJ set will be promoted here and in the facebook. Venues and dates and other info are coming, first event will be held at Cokxpon Ambient Cafe Theater Budapest on the 7th of March. More info later!

new album 'mos quataer' arrived
11th album of Tangram has been released just now! "Mos Quataer" is an ambient/electronic one-hour-length album. It can be downloaded for free or if you like you can pay some money for it. Album is available at bandcamp site http://tangram.bandcamp.com/album/mos-quataer or listen here:


'life in the drain' - an abstract ambient album by tangram
A new ambient / soundscape album became available at bandcamp site http://tangram.bandcamp.com/album/life-in-the-drain or listen here:


'turris eburnea' - a contemporary classical
A new album became available at bandcamp site http://tangram.bandcamp.com/album/turris-eburnea or listen here:


support tangram via flattr
You can now support Tangram via Flattr, the new micropayment solution for supporting things over the internet.
More info on Flattr

Here you can support my work:
new album 'the long walk' arrived
14th album of Tangram has been released just now! "The Long Walk" is an ambient/cinematic half-hour-length album. It can be downloaded for free or if you like you can pay some money for it. Album is available at bandcamp site http://tangram.bandcamp.com/album/the-long-walk or listen here:


Ulrich Schnauss (de) & Tangram (h) november 11. Budapest, A38
In November 11th Ulrich Schnauss visits Hungary. In A38 he will play with Tangram (H) and Dj Simon Iddol (H).
More info later.
'Distant Proximities' preview
Here are two songs from the upcoming EP
Distant Proximities by Tangram
Do you like them?
"Waning Gibbous" album details
Tangram announces release date of his upcoming album "Waning Gibbous". It will be available on 8th of September at Tangram's official music store Bandcamp (http://tangram.bandcamp.com
The album consists 6 tracks (50 minutes) in the mood of 80's space ambient / synth music. The song "Paleofuture" now available on SoundCloud.
The tracklist:
[01] Paleofuture 5:52
[02] Solar Travel 7:12
[03] 6EQUJ5 8:48
[04] Waning Gibbous 12:17
[05] Maenoth 11:36
[06] 239 black keys 4:40

more info »
Pre-order "Waning Gibbous" now - get full album 3 days before release!
Now you can pre-order "Waning Gibbous", 15th album of Tangram! If you pre-order now, you can download the whole album 3 days before others!
Pre-order link is at http://tangram.bandcamp.com/album/waning-gibbous
Album teaser video
Help Tangram to buy an ableton live 8 software!
Dear Tangram fans, I asking you a favour to help me to collect money for purchasing an Ableton software called Live 8.0
Ableton's holiday special offers Ableton Live 8 25% cheaper.
It's 262 EUR (350 USD) and if you help, I can purchase it.
It's a music creation software and it helps me to create more music, and share it for free.
So, how can you donate? Via PayPal or Moneybookers (Skrill) to the fabok.peter@gmail.com ID.
Many thanks if you help me to reach this!
Tangram's music in a nature short film
Back to nature II. - Technicolor CineStyle from Laszlo Huszar on Vimeo.
Tangram Music iPhone/iPad and Android app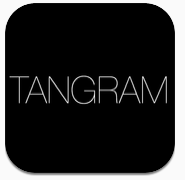 Tangram goes mobile! Videos, tracks, twitter and facebook feeds, photos and other infos are included in the apps. Just download, and take yourself my music in your pocket! Both iOS and Android apps are available on the proper stores. iOS version on iTunes Store: http://bit.ly/tangram_ios and Android version: http://bit.ly/tangram_android.
Have fun!
Tangram nominated for Schallwelle-Awards 2011
Vote Tangram as your favourite artist and "Mos Quataer", "Docosanoid" or "Waning Gibbous" for your favourite album 2011.
Tangram was nominated in 2 categories:
International artist 2011: http://voting.schallwelle-preis.de/index_artist_int.php
International album 2011: http://voting.schallwelle-preis.de/index_album_int.php
My TOP 10 inspiring music
This 10 tracks are my most favorite electronic music track what inspired me to write my own music.

Snowfall in a Generated Landscape
This is a generative ambient track about a snowfall which is not exist in reality :)

Join to Tangram Facebook Fanpage!
If you want to keep informed about Tangram, please join us on Facebook!


http://facebook.com/tangrammusic
Singles collection 2005-2012
"The Seven Letter World" video
Tangram in LA based Alien Air Music radio show
Los Angeles radio show Alien Air Music will play my "Embers" track at 9pm 04/22/2012 LA time at KXLU 88.9FM
http://www.alienairmusic.com
10 minutes preview of the new TANGRAM album
Here is the first ten minutes from my upcoming album (yet untitled). It will be released at SynGate Records in this autumn. I hope you enjoy it. Maybe you can suggest a title for it :)
TANGRAM - LAYERS 10/27/2012
Peter Fabok's ambient project TANGRAM prepares his new 21th album called "LAYERS". The title comes from feeling that under everything there is an other layer in the world. And in the deepest layer - there is MUSIC.
It will be released in 10/27/2012 at SynGate Records . The album cover is ready too, and the track titles are the following:

[01] Desert Of Lost Blessings (07:04)
[02] Violent Sunrise (04:58)
[03] Skanvas (04:09)
[04] No More Synchronisation (03:37)
[05] Regrets Are Just The Start (05:20)
[06] Soundwaves Breathing On My Neck (04:42)
[07] Modern Losses (06:02)
[08] Nocturn (06:02)
[09] Compliment of the Trees (05:52)

The preview of the album:

LOOM + Tangram live on A38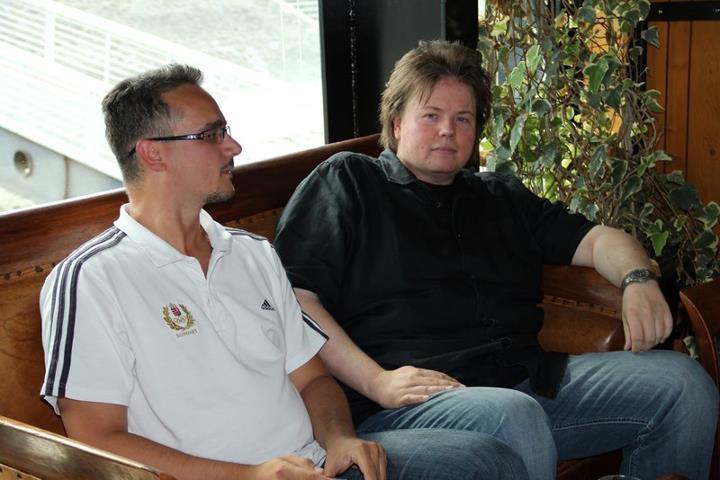 September 28 and 29 A38 will be the venue of the next two LOOM concerts, which is the new supergroup of former TD group members Jerome Froese and Johannes Schmoelling.

Tangram will play a warmup liveact before the two gigs. Two weeks ago I met with Jerome Froese, son of Edgar Froese. We sat down in the restaurant of A38 and we were talking about the shows and technical details. The photo was taken during that meeting.
All Tangram albums are available for "name your price"
I want more and more people to listen my music, so I decided that you can download ALL of my albums for NAME YOUR PRICE (pay any amount you want). If you can do, please give more than ZERO for my music, but if you want, you can download my music FOR FREE.
People are purchasing my albums for 5 USD average.
"Layers" - album released
Tangram's 21st psychedelic ambient album "Layers" has been released in 10/27/2012. The 48 minutes album is available in CD-R and Digital Download format too.
Purchase CD for 12.9 EUR (+shipment) at SynGate Shop.
Download in digital format at MusicZeit and the Official Tangram Music Store in mp3, flac, wav and other formats.
New track - 0BC245
New track is available for free! Listen this track here:
New track - Termik
New track is available for free! Listen this track here:
Budapest Timelapse 2013 - music by Tangram
Peter made the soundtrack of this awesome video about Budapest, the capital of Hungary.